Europe is full of beautiful places to hike. Whether you're looking for high mountains or low valleys, there's an opportunity to get out and explore somewhere nearby. 
Here are some of the best hiking places in Europe.
Tatra National Park
Tatra National Park is a protected area in south-eastern Poland, bordering Slovakia and Ukraine. It covers an area of 754 km² with a wide variety of terrain, from meadows to rocky peaks. This makes it one of the best hiking places in Europe.
Tatra is known for its hiking trails that can be used year-round by all hikers, from beginners to experts. The park has over 1000km of trails that go through four different environments: mountain forest (Bukovina), subalpine meadow (podhalanska Polana), and alpine meadow (górskie pole), and highland tundra (tatrzańska step).
There are many great spots to visit while exploring Tatra National Park, such as Ojców Castle or Zakopane. 
Zakopane is also known as the Polish capital city of mountaineering, where you can find some excellent viewing points on Mt Kasprowy Wierch, Gubałówka Peak, or Babia Góra Mountain.
Plitvice Lakes National Park
The Plitvice Lakes National Park is located in Croatia and encompasses 16 lakes, natural dams, and waterfalls. The area is very popular with hikers as it provides access to multiple trails in the park. These trails take you through forests, meadows, and past lakes that are connected by waterfalls.
The best way to get there is by car or bus from Zagreb (2 hours), or by train from Zagreb (3 hours). When you arrive at the park itself, there are several options for accommodation, including hostels, hotels, and guest houses in nearby towns like Korenica or Buzet. 
If you are traveling by a van or have a tent, you can camp at one of the many campsites within Plitvice Lakes National Park for only 2 Euros per night (includes electricity). This is a great deal if you are traveling on a budget. The area is well known for its food, so try local dishes when visiting! If hiking isn't your thing, many other activities are available, such as kayaking on Lake Zelencik.
Bavarian Alps
Bavarian Alps in Germany are famous for their well-maintained trails. There are many trails to choose from, and they are all beautiful, making Bavarian Alps one of the best hiking places in Europe. 
If you want to stay overnight in the area, there are many places to stay, but if not, be sure not to hike after dark as it is easy to get lost. 
The trails are well marked, and the area is so beautiful that you may feel it's worth hiking through a little bit of darkness to enjoy more scenery!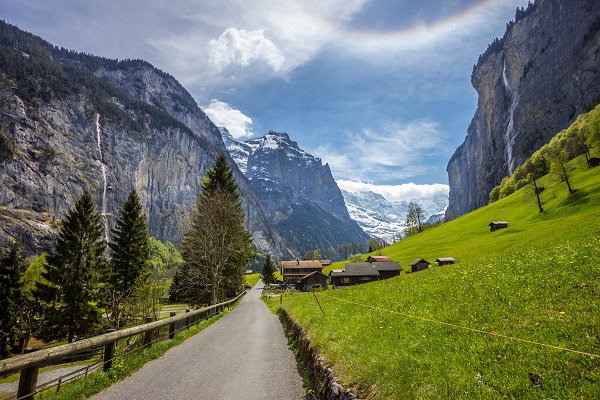 Pyrenees
The Pyrenees are a mountain range in the western part of Europe that forms a natural border between France and Spain. The highest peak is Aneto at 3,404 m. There are many trails of different lengths, but most hikers don't go beyond 30km because it can get freezing in winter. 
It's a popular destination for hikers who like to explore remote regions and wild areas with outstanding scenery.
The Pyrenees were added to UNESCO's World Heritage Sites list in 1997 because they have diverse landscapes, including lush valleys, steep mountain cliffs, and deep river gorges.
Chamonix Valley
Chamonix Valley is a beautiful, mountainous area home to some of the most popular hiking destinations in Europe. It sits at an elevation of 2,800 meters (9,200 feet) above sea level and has access to many fantastic trails throughout the year. 
This makes it a prime spot for hikers who enjoy nature without traveling far from home. One of the most popular hikes during the summer months is Mont Blanc, which takes you on a day trip past glaciers before allowing you to hike down into Chamonix Valley.
Another excellent option for those who want something more challenging would be an Alpine Crossing through Haute Route (or "High Route"). 
This route goes through several countries (France, Italy…) but traverses high mountains such as Mont Blanc or Monte Rosa Pass—some routes even take you over 4km (13k ft) above sea level! This can be done on foot or on snowshoe (depending on conditions).
Dolomites
You might be familiar with the Dolomites from their appearance in films such as The Da Vinci Code or Mission Impossible 2. But this mountain range in Italy's northeastern corner is much more than a pretty backdrop—it's also a popular outdoor destination, offering some of Europe's most dramatic scenery and great hiking opportunities.
The highest peak in the Dolomites is Monte Campanella at 3,192 meters, but there are many others that hikers enjoy exploring. 
The mountains were formed by an ancient tectonic collision between two landmasses and are now home to lush forests, limestone caves (including one known as "Hercules' Grotto"), ancient villages, and castles. 
They have stood on rocky outcrops overlooking breathtaking views across the valley below them for centuries.*
Mount Olympus
Mount Olympus is the highest mountain in Greece, and it's a dormant volcano. This mountain is a very popular tourist destination and one of the best hiking places in Europe. Mount Olypmus is also used for paragliding, camping and certain music festivals.
Conclusion
We hope this list has helped you to find the best hiking places in Europe. Europe is a great place to hike and explore because of its diverse landscape and beautiful nature. Enjoy and never stop traveling!