It's that time of year when everyone is starting to think about their summer holidays. But, if you're getting bored of the standard holiday checklist: where does the best package deal, where will be warmest and where caters to tourists then why not try something different and travel in a van? The summer months are the perfect time of year to travel in a van and try out van life– the days are long and warm, and the outdoors is ready to be explored. Van life travel is the perfect way to explore new destinations and the feeling of going back to your home on wheels after a day of exploring will never get old. Maybe you already have your own tiny house and want to test out an extended summer adventure but, if not and you want to try out the off grid adventure lifestyle you could rent an RV from a company like Outdoorsy– the Airbnb for campers.  Whichever it is, summer is undoubtedly the best time of year to travel in a van and give alternative living (or holidaying) a try. Not convinced? Read on for the top eight reasons why you should travel in a van this summer.  
1. Visit More Destinations
One of the best things, when you travel in a van, is the ability to go where ever you want, whenever you want. When you choose to join the ever-growing community of vandwellers for the summer you can say goodbye to expensive; hotel arranged excursions and 'day trips' and hello to every single place you'd like to visit. As your holiday accommodation has wheels, you will be able to plan your holiday route around the sights that you'd like to to see, not just the destinations that are accessible from your hotel. Depending on how much time you have to travel in a van you could explore an entire country, or maybe even multiple countries this summer- imagine being able to visit the Colosseum in Rome and the stunning scenery of Lake Garda in one trip! Freedom really is found on the road, and there is such beauty in being able to explore at your own pace- be it fast or slow- and tick several destinations off of your travel bucket list. 
2. Cheaper Accommodation
When you travel in a van the cost of your accommodation is minimal compared to that of a hotel or even a hostel, especially if you're a trusty weekend warrior and already have a camper. Once you have your camper, you can also avoid paying campsite fees if that is how you want to travel as there are so many amazing wild camping (or boondocking for our American readers) spots to be found. If you like the ease of finding a campsite but are not bothered about the commodities of showers and toilets etc. then there are so many great wild camping apps that you can download to make overnight parking so much easier. Travel in a van makes for cheaper accommodation meaning you have more money left over for the fun things like sightseeing, eating out and water sports. Minimising accommodation costs and maximising your adventure budget means you can really get out there and experience the place you're exploring. Low accommodation costs are one-way travel in a van can enhance your holiday experience and ensure you make the best memories possible.
3. Explore the Outdoors
If you're an outdoorsy person then travel in a van is the perfect way to get outside and experience the nature and scenery of the area you are visiting has to offer. Outdoor sports such as climbing and surfing go hand in hand with vanlife, and there's a reason for this. You can chuck all of your gear into your van and head out without having to pack and check you've got everything- of course you do because you're taking your tiny home with you! Your van can get to places perfect for outdoor sports so you can spend all your energy on your activity, not on getting there and, once you're done a hot cup of tea, comfy seat, and a clean change of clothes is only five minutes away. Even if you're not into extreme outdoor sports vanlife is still the perfect way to discover nature. Park for the night in a vast desert under the star-strewn sky, fall asleep listening to the sound of the waves and wake up to a beautiful sunset, already surrounded by nature. If you prefer being outside for most of the day then travel in a van is definitely for you, even when you're in your van, you can bring the outside with you by just opening your doors. 
4. Meet New People and Make Life Long Friends
If you enjoy being sociable and meeting new people when you're travelling then travel in a van this summer is definitely for you. There are so many amazing people exploring the world in a van, and they all have fantastic stories to tell, locations to share and tips to give, bumping into someone else doing the same thing as you is sure to bring about great conversation and you'll feel like you've known each other forever after just a few minutes. Some of the people you meet while travelling are sure to become friends for life so you'll always have someone to reminisce with on days spent on the road. Meeting other people also means you can have a look around their campers. Looking at other people's tiny homes is excellent if you're looking to turn a summer road-trip into more long term travel as you can get many opinions on the best van to live in before you invest money into buying a camper. Other people's hindsight can bring invaluable advice when you're delving into a new, unknown world. Travel in a van is a unique experience and being able to share it with others makes it even more special, there's nothing better than sitting around a campfire with new friends before heading back to your cosy tiny home on wheels. 
5. Enjoy a More Relaxed Lifestyle
Travel in a van means you can choose the pace at which you explore, be it fast so you can see as much as possible or at a slower, more relaxed pace. I think travel in a van is best enjoyed at a slower pace as you can appreciate where you are without being desperate to arrive at the next location. This relaxed lifestyle will mean you can return home after your summer travels feeling well and truly rested and content, instead of needing another holiday to recover from your holiday. This relaxed pace allows you to wind down and take in the places you visit enabling you to really take them in. When travelling in a van being on the road is a huge part of the lifestyle, driving isn't the chore that it is on your daily commute but instead adds to your holiday, taking you past fantastic scenery and places you otherwise wouldn't see. When you see new things every day, even the drive can be relaxing. Travel in a van is just as much about the journey as it is the destination.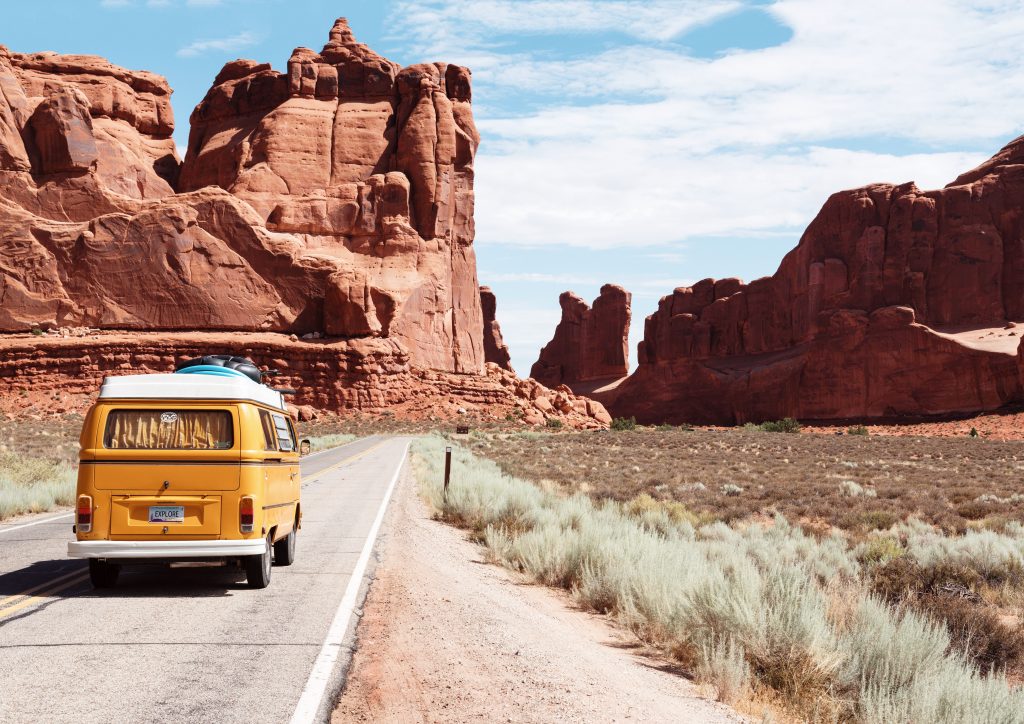 6. Home Away From Home
After a long day of sightseeing, surfing or hiking on the trail it's such an amazing feeling to be able to flop onto your bed and eat a hearty home-cooked meal. When you travel in a van, it's like having a home away from home and makes travel that little bit easier and more relaxing. If you're an outdoorsy person, a good nights sleep is essential to an active day; this is much easier to get in a van compared to a cheap hostel as you have your own space. Knowing you always have everything you could need with you is a great feeling, spare clothes if it rains, swimwear if you find a great place for a dip or snacks if you get hungry. Holidaying and travel is just more comfortable in a van, you don't have to lug everything around with you in a backpack or suitcase, and you have more room for gear that would otherwise need to be left behind, meaning more stuff for fun and adventuring!
7. Discover Areas Away From the Tourist Track
Travel in a van means you can reach destinations otherwise inaccessible to tourists and discover beautiful places that are well and truly off of the tourist track. Someone once told me that 80% of people only see 20% of what's around them and when you think about a typical holiday this really couldn't be truer. Many people will leave the comfort of their hotel for just a couple of days to explore the immediate vicinity around them. Even during a culture filled city break time is rarely taken to step back and appreciate the smaller details as we are so often filled with the desire to see as many things as possible, in quick succession. With travel in a van, you can become one of the 20% of people to see and experience more. Drive away from the crowded hustle and bustle of the tourist traps and experience life as the locals would. Explore hidden gems and eat at small, independent restaurants, relax on the less crowded beach and take in local culture at your leisure. Travel in a van is one of the best ways to make your holiday experience unique to you, make memories that no one else has and visit places that few people. 
8. Experience a Minimalistic Lifestyle
Travel in a van over the summer months is a great way to try out the minimalistic lifestyle that comes with living off the grid in a van. If you're thinking of diving into the world of tiny homes, campervan conversion and off grid living then renting and travelling in a van this summer is the best way to decide if the van life is for you. You may have spent time looking at beautiful van life Instagram accounts or reading flawless vanlife blogs online, but the only way to really find out whether vanlife is for you or not is to try it out. By travelling in a van this summer, you can pick up so many van life ideas and find out what would be necessary to you if you were to embark on full-time travel and vanlife and build your camper conversion. Even if van life isn't something you dream on doing on a long term basis, travel in a van and the minimalism that comes along with it is a really memorable experience and will remind you of what is really important in life. You'll discover that less certainly is more and that life, and travel, is more than just things and luxury. It's about the places you see, the cultures your experience and the people you meet.
Final Thoughts…
If these eight points haven't persuaded you to travel in a van this summer, then we don't know what will. Travelling in a van really is for anyone and everyone- whether you're an experienced adventurer, keen culture vulture or a hardcore beach bum travel in a van would be perfect for you. And that's the best thing about it, travel in a van is unique to you. You are entirely in control of both the destination and the journey, so the experience is what you make it. Go where you like, do what you like and see whatever you want. Bliss. If you do decide to travel in a van this summer, we'd love to hear about it.
---
This article was originally published on Vanclan.